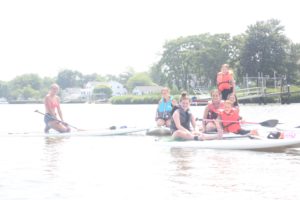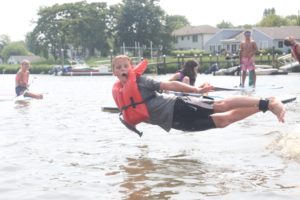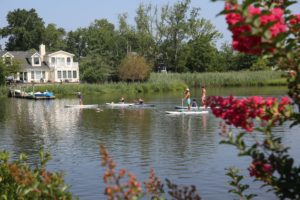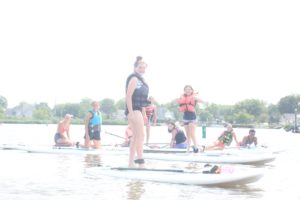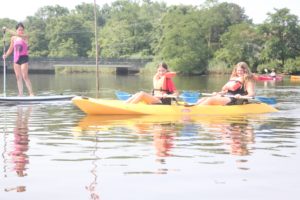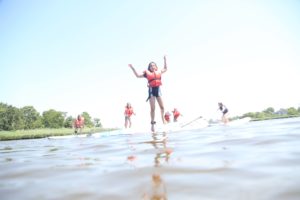 River Kids – Camp at Oceanport Paddle Club
Have fun doing paddle sports on the river this summer while making lifelong memories & friends with Oceanport Paddle Club River Kids!
River Kids (camp) is an extended group instruction program. It includes Stand Up Paddle, kayaking instruction. Stand Up Paddle Boarding (SUP) is an offshoot of surfing that originated in Hawaii. Unlike traditional surfing where the rider sits until a wave comes, stand up paddle boarders stand on their boards and use a paddle to propel themselves through the water.
OPC River Kids runs for 3 hours a day, Tuesdays-Thursdays, ages 7- 17. This extended group instruction sells out with a total of 20 students max per day! With over 25 years combined SUP experience and positive role models, our qualified instructors will teach our students all the SUP/Kayak basics with the strongest emphasis on safety. Our safety guided program includes all equipment, pizza party on Thursdays, all instruction, extra water, snacks and sunblock.
We provide all equipment!
Typical Day:
• check in
• apply sunscreen
• stretch
• paddle safety discussion
• guided paddle
• lunch
• SUP exploring, kayaking and MEGA SUP
• check out
Total time: 3 Hours. Tuesdays-Thursdays with Friday designated for make up in case of poor weather
Our safety oriented structure includes:
All SUP paddle instruction details including current and wind safety precautions, turning the board, SUP paddle technique, excursions and kayak instruction.
Rates: $225 per student with 5 to 1 student to instructor ratios following NSSIA guidelines. Sibling discount and group booking discount available please inquire.
Our instructors: Combined 25+ years SUP experience, NSSIA accredited, lifeguard certified, CPR/AED certified
Please bring: Towel, warm clothes, bathing suit, extra sunblock, extra water, lunch Tuesday & Wednesday. Thursday pizza included with tuition.
*24 hours must be given for cancellation with make ups issued. If we
cancel due to poor weather, the first Friday of the week is our
designated make up date. Refunds will be issued with at least 1 week
notice of cancellation for designated dates.
Students will acquire:
Life Skills, Confidence, Self Esteem, New Friends/Connections, Environmental Knowledge, SUP Culture Experience, Physical Fitness, Lifeguard Training Experience, Open Bay/River Safety Experience, Teamwork, Dedication, Compassion and Integrity.
If you would like to be put on a wait-list for a week that is full click here
River Kids Camp runs from June 21 to September 1st. To see all sessions and availability click on the "Book Online Now" link.