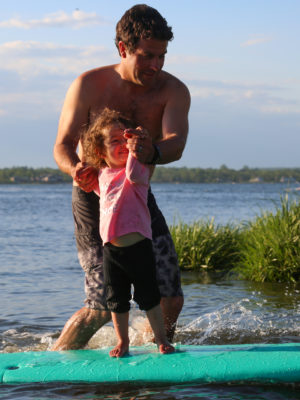 Age: 39
STARTED SURFING: 1990
YEARS TEACHING SURFING: 20+
TRAVELS: Morocco, Alaska, Nicaragua, Bahamas, Barbados, Saint Lucia, Mexico, California, Oahu/Maui/Lanai, Tahiti/Moorea, Costa Rica, Dominican Republic, Jamaica, Nova Scotia/Cape Breton, Puerto Rico, South Africa, Ecuador, Northern Sumatra, Australia, New Zealand, Scotland, Spain, France.
FAVORITE WAVE & TRAVEL DESTINATION: Pav Ave & Scotland
FAVORITE FOOD: My Wife's Italian Dishes
LEAST FAVORITE FOOD: Canned Tuna Fish
LIKES MOST ABOUT SURFING: Surfing opens up the world. It enables us to see cultures and locations people only dream of seeing. Its a beautiful world out there!
*NOTE* Bryan founded Summa Love Surf Camp and Summa Love Art Studio. His goals are to keep Summa Love going strong, diversify as much as possible, keep traveling, raise a happy/healthy family and never stop learning. He graduated from Monmouth University in 2003 making the Dean's list with a 3.7 GPA. Bryan works as an art instructor at Summa Love Art Studio, freelance artist, committee member for Clean Ocean Action and Surfer's Environmental Alliance board member during the off season.